From my upcoming book:
White Superheroine self-made / designed costume   I had a high entertainment profile = Jewish competition. I unknowingly sent my first fierce emails to the Jewish radio media on October 10, 2002. Jews have haunted me ever since. Otherwise, they have no competition. I worked on this Batgirl Barbie costume for a year. I finished after midnight on July 20, 2010, Mama's birthday. Immediately, I posted the last costume piece, my cowl mask, on Jew Facebook. Next, I checked the Internet news headlines: "Batman Midnight Massacre at Aurora, Colorado Theater – 12 (White?) dead – 70 wounded." Movie Screening (Black) Dark Knight Arising. I had taken my cat "Daddy" on stage for costumed karaoke. 2011 -First Lady Melania Trump's fashion designer dress her as Batgirl as I performed in Vegas the year before.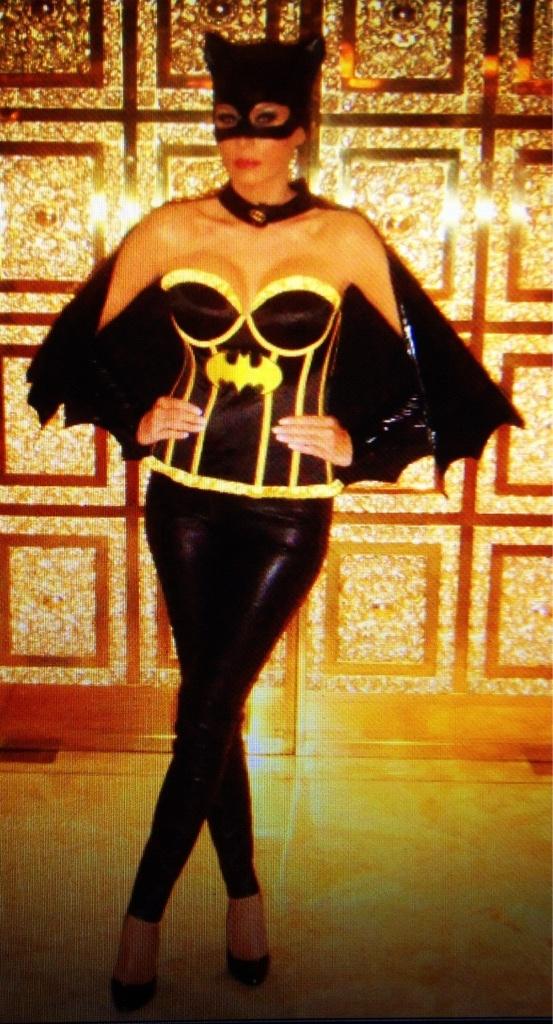 Note the following year "2011" Melania shows up in a costume similar but not as elaborate. She's dressed in Black!
2010 – Chicago Tea Party Protest: Screamed and cheered in my hand-made version of a White Wonder Woman costume. It made the news in England. However, the two first speakers on stage, who led the White meeting, were Jewish. I left early.  [i] My other self-made superheroine costume was my interpretation of a Batgirl costume with blinking white lights on the wings' outline. Melania Trump wore a costume like this, minus my extras. [ii]
2010 – Success in my crusade for White veterans' rights. First military study: Army Health Promotion Risk Reduction Suicide Prevention. [iii] The result: of 400 years of American wars, they singled out the Vietnam bloodshed. Two hundred thousand victims of suicide – all White men. There was an explosion of rights for all veterans, their wives, and children. I saw the scorn and shame vanish of being labeled "a crazy Vietnam veteran."
---
[i] https://www.telegraph.co.uk/news/picturegalleries/theweekinpictures/7598744/The-week-in-pictures-16-April-2010.html?image=11
[ii] https://barb-nowak.com/2019/05/melania-me-my-prophecy-of-the-batman-theater-shooting-july-20-mamas-birthday/
[iii] https://armypubs.army.mil/epubs/DR_pubs/DR_a/pdf/web/p600_24.pdf