Repost: As I protested the jewish only version of the holocaust in 2017, they Lied About What happened. The USA had a 1924 ban on them. Since they stole White Thomas Alva Edison's movie machine in 1927, all movies, including YouTube, porn films are of the jewish devil.
96-year-old accused of being Nazi camp guard is deemed 'unfit' for trial
By Claudia Otto and Sara Spary, CNN
Updated 12:03 PM ET, Thu March 11, 2021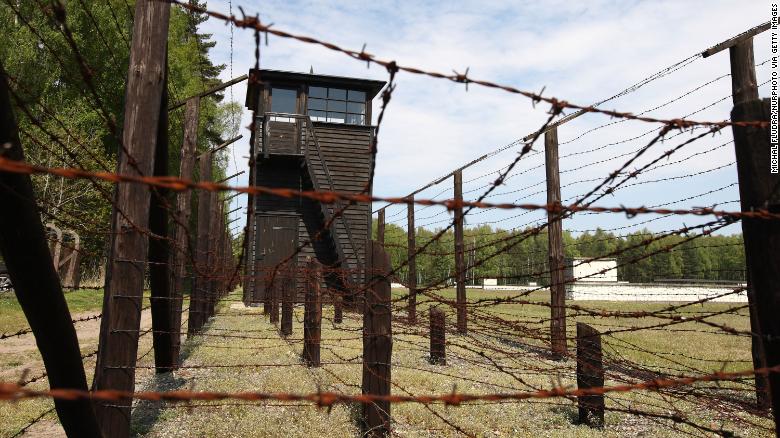 The court allege there is "strong evidence" that Harry S. guarded the transportation of hundreds of prisoners who were murdered in gas chambers.
Berlin (CNN)A 96-year-old man accused of being an SS guard at the Stutthof camp in Nazi-occupied Poland has been deemed "unfit to stand trial."The man, named only as "Harry S.," is alleged to have been stationed at the concentration camp — where it is estimated 65,000 people were murdered during the Holocaust.The court in Wuppertal, Germany, had been due to try him of having "aided and abetted [the] murder [of] several hundred [people]," court judge and spokesman Christian Lange told CNN.But owing to his inability to "conduct the defense in an understandable and comprehensible manner" the trial will no longer take place, Lange said. The court has decided, however, that he must "bear the expenses incurred by him in the proceedings himself."https://8cc1da654205add36fe6e3c1e43868b8.safeframe.googlesyndication.com/safeframe/1-0-38/html/container.htmlHarry S. is accused of having served as a guard at the Nazi concentration camp, near the Polish city now called Gdansk, between June 1944 and May 1945.Female Nazi concentration camp secretary charged with complicity in 10,000 murders in Germany While there the court allege there is "strong evidence" that he guarded the transportation of 598 prisoners to Auschwitz-Birkenau, where 596 were murdered in gas chambers.