Finally, The 2017 "White" House, has a nativity scene. It was outlawed. Yet Jews hoisted up a 31-foot crane for colossal Menorah. Blacks put up a gospel tent, which was all I saw White people worshiping Blacks singing two Christmases ago. Worshiping Jews and Blacks but nothing for Whites who seem to have no religion except to worship them.
As an artist, I couldn't help but notice, General and President George Washington's portrait is on the right side and his open hand (a sign of reverence) is pointing to the Nativity Scene. I believe Jesus was White by Race and Jew by religion. (and I posted on my timeline about my outrage of the Christ Church, where George Washington attended and gave $$$$, took down his picture because he hired Black workers, fed them well, and took care of all their needs.)
I think there's also a long portrait of his wife, Martha, on the other side of the Nativity scene. Martha Washington is one of my 258 Kostumed Karaoke Karacters. And the tribute is to General and President Washington. His face is on the Purple Heart medal, my deceased husband received for fighting the Jew and Chinese-led Communists in Vietnam.
My last Facebook livechat, I had a racist Baby Jesus. I could buy one in four different races: White, Black, Brown, Hispanic. (I'm sure they have yellow now, except the Communist Chinese destroyed 450 Presbytarian churches about a year ago.
White House -White Nativity Scene. See posts below. (Jesus was White.)
Note in this one, there's a White horse, Black, and Brown. That's to make sure we're programmed for Whites to get alone and worship Blacks and Browns. It's genocide for Whites and I have to reject things like this in my consciousness to keep it Pure White.
I think one of the 3 Kings was Black. My brother said he had shortwave radio and learned the Black African kings openly sold their Black people to Jews and others and became filthy rich off of White $$ (and Muslim, Egyptian)
The dogs look like mutts, which has been the thrust for over 500 years to break down the White Species. Obama was a Black and White mutt.
There are lots of baby White angels in the sky, and that gives me hope.
Everything in the scene has a meaning. I'm just in awe to see White (Christians) can celebrate Christmas in our own land.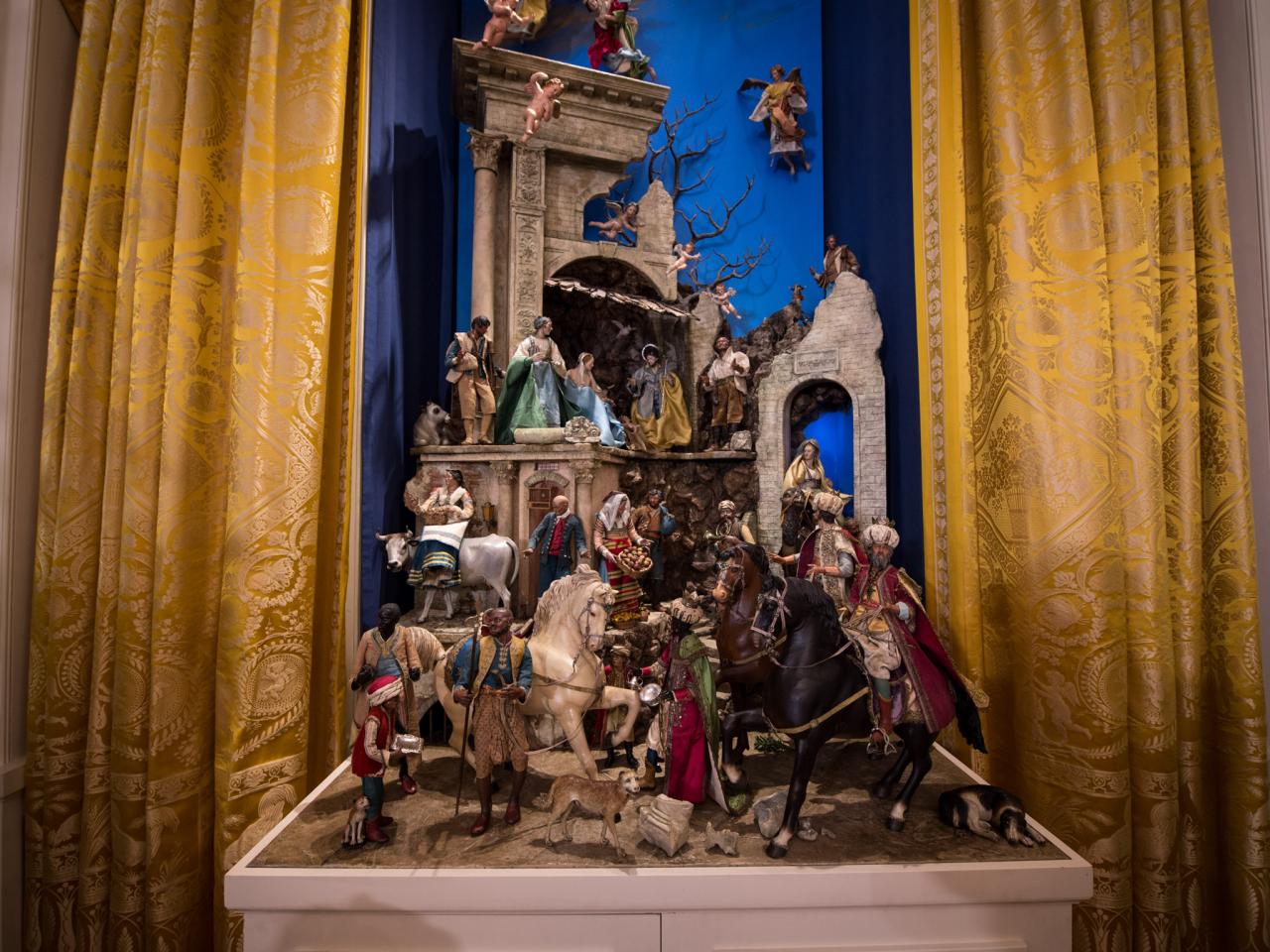 Jews beat the White Christian Germans in World War II. This is in Germany (as in USA.)
The Communists won and not only took over Berlin, the capital of Germany, but rule Germany until today. If you want to take over a race, beat their smartest down, Germans. By the way, Germans will be the first to go extinct. It's said, because the National Socialists, (Jews named Nazis) had a nearly perfect plan to save the White species or at least their own Germans who were brought to their knees and intentionally degenerated and bankrupted the White German treasury. It was so bad, Jewish theater owners could get starving White men to have sex on stage with donkeys. How hateful to reduce our regal White pure-raced man to worse than an animal.
In the USA, we had no Nativity scene of Jesus. Jewish courts outlawed it. (You can see why on my Saturday Facebook Live Chat.) But the Jews put up a menorah so big at the White House it took a 31-foot crane to hoist it. Also, when I went to DC, two years ago, there was only a tent at the White House filled with Black gospel singers for the Whites to adore and worship along with Jews. Here's the short German video announcing to the world, Jews beat them in World War I and II, and Jews rub their noses in this mess.

https://www.welt.de/politik/deutschland/video171536621/Chanukka-Leuchter-am-Brandenburger-Tor-entzuendet.html